"Cuba: way to renewal of economic model of the country"
December 16, 2015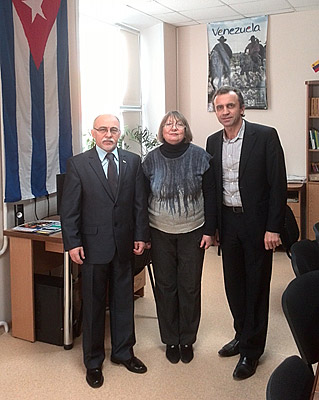 On December 16, 2015 Gerardo Suarez Alvares, the Ambassador Extraordinary and Plenipotentiary of the Republic of Cuba, gave a lecture in BSEU: "Cuba: way to renewal of economic model of the country".

The Ambassador presented students the detailed analysis of economic, political and social development of Cuba for the last century. Gerardo Suarez Alvares paid special attention to the current status of national economy and the purposes which are set by the government of Cuba: increase in export, creation of new workplaces, development of technology market.
Strategically important tasks, according to the Ambassador, are the following: development of biotechnologies, agricultural industry, tourism and information technologies, and also attraction of foreign investment. "We can offer to our prospective investors beneficial geographical position, scientific development, highly qualified labor force, the developing infrastructure, stability and safety of the country, the wide business portfolio consisting of 326 projects with total cost of 8 billion US dollars," – was noticed by Gerardo Suarez Alvares.

In conclusion, the Ambassador answered the questions of the students.