Lecture on the current situation in the Bolivarian Republic of Venezuela

May 30, 2016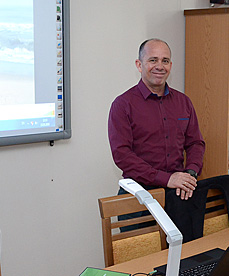 Within the information and educational events held by the Embassy of Venezuela in Minsk a lecture about political, economic and social situation in Venezuela took place on May 19, 2016 in the Center of Latin American researches of Faculty of international business communications of BSEU. More than 40 people attended the lecture, among whom there was Natalia Vsevolodovna Popok, the head of the Center of Latin American researches, students and professors of the university.

After the demonstration of video records about everyday life and work of Venezuelans, national traditions and cheerfulness of the nation José Boggiano, Ambassador of Venezuela in Belarus, who gave the lecture, explained to the attendees that these values are under the threat due to constant attacks on the Bolivarian government from the Venezuelan opposition with support of the United States of America and world information agencies.

After viewing of video records the Ambassador covered such issues as economic war against the Bolivarian government of Nicolás Maduro, mass media campaign against Venezuela, the uprising against the President Dilma Russef, financing of Venezuelan opposition by the United States.

On the question of whether division into classes as it was during a colonial era exists in Venezuela, the Ambassador of Venezuela answered that one of the priorities of Bolivarian revolution as well as all progressive governments of Latin America is the maximum decrease in level of poverty. The latest had reached 80% in Venezuela before the revolution. Thanks to the policy of social inclusion implemented by Hugo Chávez, and now by Nicolás Maduro, this indicator has considerably decreased. José Boggiano specified that still a lot should be done.

On the question of opportunities of getting higher education in Venezuela the Ambassador explained that in the country special educational programs aimed at elimination of illiteracy and granting opportunities to get secondary and higher education had been created.

The participants also learned about the joint Venezuelan-Cuban project in health care sector, so-called mission "Deep into areas" and about its results.

At the close of the lecture the participants expressed gratitude for the obtained information and showed willingness to visit Venezuela, and try the mango fruit in particular.